Bio
Joan Vernikos, Ph.D. was Director of Life Sciences at NASA Headquarters from 1993 until September, 2000. She is well known throughout the scientific community, coming to Washington, D.C. from NASA's Ames Research Center (ARC) in California. She joined ARC in 1964 after four years at Ohio State University Medical School where she was Assistant Professor of Pharmacology. Trained in London, Dr. Vernikos held honorary academic appointments at Stanford University, Wright State University School of Medicine, and was Visiting Professor at the University of London. She is now President of Thirdage LLC.
She has published over 200 scientific papers and reviews, has served on editorial boards of scientific journals, and was Associate Editor of Pharmacological Reviews. She holds 3 patents, including one for the Human Powered Centrifuge (US patent #5616104).
For her research and leadership in the space sciences, Joan received numerous awards including the Strughold and Leverett Awards from the Aerospace Medical Association, the Jeffries Award from the American Institute of Aeronautics and Astronautics, the Lifetime Achievement Award of the Women in Aerospace, NASA's Exceptional Scientific Achievement and two Exceptional Leadership Awards.
In 2009 her work for the health and safety of astronauts was recognized by the American Astronautical Society with the Melbourne W Boynton Award.
In 2010 her work of bringing her research results from space to help people on earth live active independent lives by Managing Stress and Healthy Aging was recognized by the Hellenic American Womens' Council (HAWC) with their Aristeon Award. The International Academy of Astronautics also awarded her the Life Sciences Book Award for her book The G-Connection: Harness Gravity and Reverse Aging.
She is a
Member of the Space Studies Board, National Academy of Sciences-National Research Council
Member of the International Academy of Astronautics
Research Fellow of the International Strategic Studies Association
Fellow of the Aerospace Medical Association
Fellow of the World Economic Forum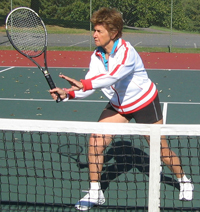 An advocate of space travel for all and of the commercialization of space , Dr. Vernikos is an ardent believer in the use of space to benefit humanity. She is a consultant to space agencies and the aerospace industry, and a mentor to women professionals.
Of Greek origin, born in Alexandria, Egypt, she is married to Geoffrey C. Hazzan and has two children, Eftihia and George Danellis. She plays indifferent tennis. She is also a recognized expert chocolate truffle-maker, having brought to bear her background as a pharmacologist to invent the first all-white chocolate truffle in Europe.
Related: "A Pioneer of Space Medicine", Greece Now, 2000
Space Aging, NewsHour with Jim Lehrer, Oct., 1998
Contact us