You can buy The G-Connection through Amazon
, Barnes & Noble, or from bookstores through the Ingram Book Group. Or you can get it as an e-book.
Sitting Kills, Moving Heals - How simple everyday movement can prevent pain, illness and early death and exercise alone won't is Dr. Joan's new book.
"It's an intriguing new way to think about exercise and health." saysLucinda Bartley, Editor of Crown Books.
"Joan Vernikos gives practical recommendations on how we can
best take charge of our health and maintain our independence."
Sen. John Glenn, forward to The G-Connection, Harness Gravity and Reverse Aging
The G-Connection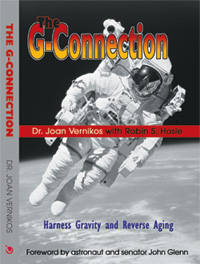 The G-Connection: Harness Gravity and Reverse Aging
Dr. Joan Vernikos with Robin S. Hosie, 2004, iUniverse Inc.
Foreword by astronaut and Senator John Glenn. Non-English Versions below.

Peppered with first-hand anecdotes from astronauts and interesting stories of Vernikos's own voyage of discovery, this book is both a fun and credible resource. The reader finishes the book knowing what to do differently in his or her daily life to slow down or even reverse the aging process.
After 30 years of pioneering research with NASA, Joan Vernikos has written the first book to focus on the fundamental importance of gravity in maintaining youthful vigor. In it, she applies lessons learned from the experiences of U.S. astronauts and Soviet/Russian cosmonauts in space to ordinary people here on Earth. Highly practical, the "What You Can Do About It" section in each chapter is a comprehensive guide that will help young people, baby boomers, the elderly, and professionals make smart lifestyle choices.
Readers' Comments:
"Utterly engrossing" ~

Sylvia Franco Drake, Drama Critic, The LA Times

"Terrific! Echoes my experience." Joe Allen, Ph.D., astronaut, untethered space-walker

"For the first time a scientific book tells you quietly and clearly what to do and manages to be entertaining at the same time." Leila Taraboulsi Khoury, Washington DC
Watch Dr. Joan speak about G-Connection here.

Buy your copy of
G-Connection today
. Prefer the E-Book?
Click here
.
Non-English Versions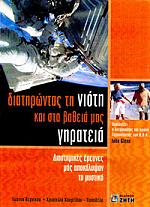 Maintain Youthfulness Even in Old Age: Space Research Reveals the Secret
Chrysoula Kourtidou-Papadeli MD, co-author
ZITI publishers, Thessaloniki and Athens, Greece 2004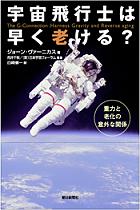 The G-Connection: Harness Gravity and Reverse Aging
Translated by Schoichi Shirasaki
Foreword by cardiologist and astronaut Chiaki Mukai
Asahi Sensho publishers, Tokyo, Japan 2006.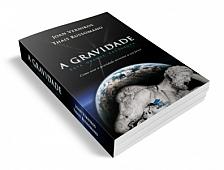 A Gravidade, esta Grande Escultora: Como usar a gravidade terrestre a seu favor
Thais Russomano MD, PhD, co-author
ediPUCRS, Porto Alegre, Brazil 2009. (Portuguese)

Contact Us