"Sitting Kills.." is a well written book, easy to understand and a fierce warning for Americans to wake up.

Virginia Cornue, PhD.
Vaboomer.com, 2012.
This book is a must-read for everyone who wants to live healthy for longer.
Dr. Donal O'Gorman, Centre for Preventive Medicine, Dublin University.
| | |
| --- | --- |
| Sitting Kills, Moving Heals | For Media Inquiries, please click here. |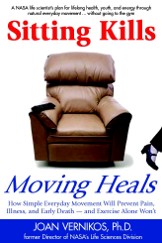 "In this thought-provoking book, former NASA scientist Vernikos, who saw how floating in outer space made astronauts lose muscle and bone, argues that out-of-shape Americans need to start doing exercises that make their bodies resist the force of gravity. Consider this book a compelling call to action... Instead of sitting (no gravity exertion there), Americans need to make like astronauts returning to Earth and get moving." ~ American Library Association BookList
Numerous medical studies have proven that sitting too much shortens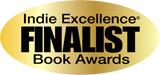 lifespan, even in people who exercise regularly, but what's the reason? In Sitting Kills, Moving Heals: How Simple Everyday Movement Will Prevent Pain, Illness, and Early Death -- and Exercise Alone Won't, Dr. Joan Vernikos, former director of NASA's Life Sciences Division, presents a comprehensive scientific explanation for why Americans are so unhealthy — and delivers the solution, an easy-to-follow, scientifically proven plan to restore Americans' health.
In Sitting Kills, Moving Heals, Vernikos uncovers the unsuspected medical connection between the health dangers of weightlessness in space and the chronic diseases caused by sedentary lifestyles here on Earth. In her research at NASA, Vernikos discovered that movement that resists the force of gravity is essential to good health. In weightlessness, astronauts, who are far fitter than the average adult, seem to rapidly age; their muscles, bones and overall health degenerate to levels usually seen in elderly people. Vernikos found that keeping subjects resting and immobile — an extreme form of the typical American lifestyle — caused the same health problems as extended weightlessness.
Sitting Kills, Moving Heals shows that the key to reversing the damage of sedentary living is to put gravity back in your life through frequent, non-strenuous actions that resist the force of gravity throughout the day, 365 days a year.
Better than an exercise or diet plan, Sitting Kills, Moving Heals gives readers a blueprint for transforming their lives with everyday healthful activity. The Sitting Kills, Moving Heals method is fun, easy to follow, takes no time commitment — and it works, giving far better results than conventional diet and exercise plans.
Sitting Kills, Moving Heals is a landmark book that explains why the obesity epidemic is happening and gives ordinary people the knowledge and weapons to fight it and win a lifetime of good health. This is a must-read book for all people who care about their health and the health of their loved ones.
"Her easy-to-follow plan shows how fun activities such as walking, dancing, golf, and just simple movement will help us become not just healthier but stronger and more independent." ~ The Tucson Citizen
Available also as an e-book from Barnes & Noble
Published by Quill Driver Books. Media Inquiries click here.